Genetic variability in Aegorhinus superciliosus (Coleoptera: Curculionidae) populations in Chilean Maytenus boaria (Celastrales: Celastraceae)
Resumen
The raspberry weevil (Aegorhinus superciliosus) is a curculionid native of Chile and part of Argentina. This insect is considered to be a pest to both European hazel (Corylus avellana) and blueberry (Vaccinium corymbosum) fruit plantations in south-central Chile and has caused considerable economic damage to the local fruit industry. The aim of this study was to evaluate the genetic variability within A. superciliosus populations associated with Maytenus boaria. Adult A. superciliosus specimens were collected from Máfil, Futrono, La Unión and Frutillar populations. Their classification and storage was carried out at the Animal Biotechnology Research Laboratory (LINBA) of the Universidad de La Frontera, Temuco, Chile. Molecular analysis was assessed through ISSR (Inter Simple Sequence Repeats). Results showed high genetic similarities across all studied populations. A positive correlation was observed between genetic variability and geographic distribution. The southernmost populations (Futrono, La Unión and Frutillar) expressed high interspecific genetic similarities, associated with the abundance of M. boaria, which allows for genetic flow throughout the studied area. The low level of genetic variability in A.superciliosus populations in southern Chile is likely to be correlated with the large number of hosts found in agricultural and forest ecosystems which have the capacity to colonize extensive areas in this part of the country. These conditions contribute to an increase in the genetic flux of A. superciliosus, thus transforming this insect into one of the most significant and most harmful blueberry pests in Chile.
Autores/as
Luis Huala

Universidad de La Frontera

Marco Paredes

Universidad de La Frontera

Luis Salazar

Universidad de La Frontera

Mario Elgueta

Museo Nacional de Historia Natural

Ramón Rebolledo

Universidad de La Frontera
Descargas
La descarga de datos todavía no está disponible.
Palabras clave
Raspberry weevil
ISSR markers
genetic flow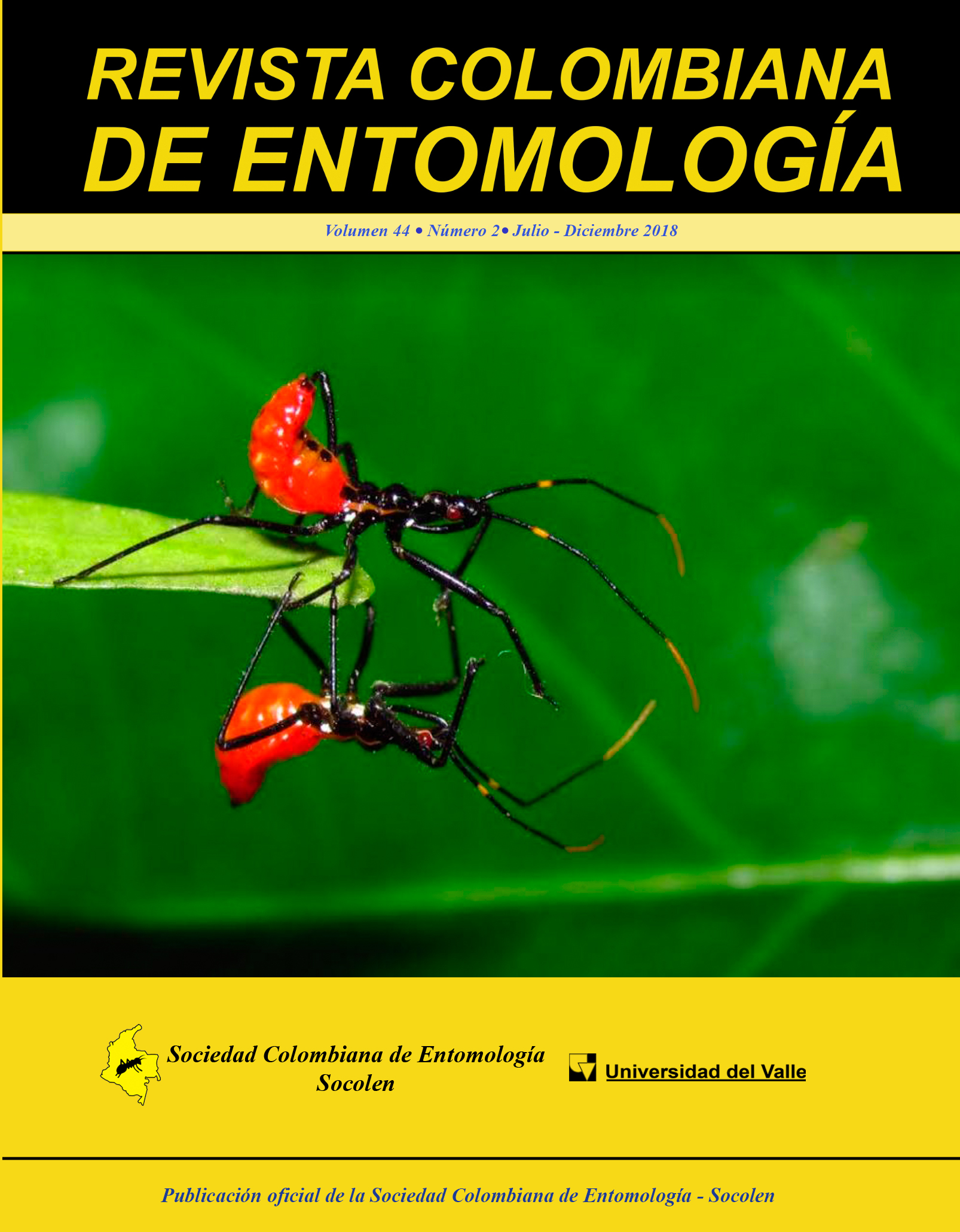 | 17 |
Cómo citar
Huala, L., Paredes, M., Salazar, L., Elgueta, M., & Rebolledo, R. (2018). Genetic variability in Aegorhinus superciliosus (Coleoptera: Curculionidae) populations in Chilean Maytenus boaria (Celastrales: Celastraceae). Revista Colombiana De Entomología, 44(2), 260-265. https://doi.org/10.25100/socolen.v44i2.7327
Sección
Sección Básica / Artículos de investigación
© Los derechos de autor de la Revista Colombiana de Entomología pertenecen a la Sociedad Colombiana de Entomología y la Universidad del Valle. Estas instituciones no se responsabiliza de las ideas emitidas por los autores. Ninguna publicación, nacional o extranjera, podrá reproducir ni traducir los artículos o los resúmenes, sin la previa autorización escrita del editor. La persona interesada en poseer una copia de un artículo puede descargala de la página web de la revista, solicitarla gratuitamente al autor cuya dirección aparece en la primera página del mismo o solicitarla a través de revista.entomologia@univalle.edu.co.