New Bemisia tuberculata (Hemiptera: Aleyrodidae) rearing method for studies in cassava
Diandro Ricardo Barilli

Universidade Estadual Paulista "Júlio de Mesquita Filho"

Ana Paula Gonçalves Da Silva Wengrat

Universidade Estadual do Oeste do Paraná

Daliana Hisako Uemura-Lima

Universidade Estadual do Oeste do Paraná

Vanda Pietrowski

Universidade Estadual do Oeste do Paraná

Rudiney Ringenberg

Embrapa Mandioca e Fruticultura

Mauro Silveira Garcia

Universidade Federal de Pelotas
Resumen
The aim of this study was to develop a rearing method for Bemisia tuberculata on cassava plants that enables the production and ongoing maintenance of a colony. The initial population of B. tuberculata was obtained from leaves collected from plants with high nymph infestations. Emerging adults were transferred from plastic cups to voile cages in different densities. The density of 125 adults of the B. tuberculata per leaf was the most suitable for rearing. The rearing method proposed in this study has proven to be effective and is recommended since it allows for population levels to remain stable during experiments.
Descargas
La descarga de datos todavía no está disponible.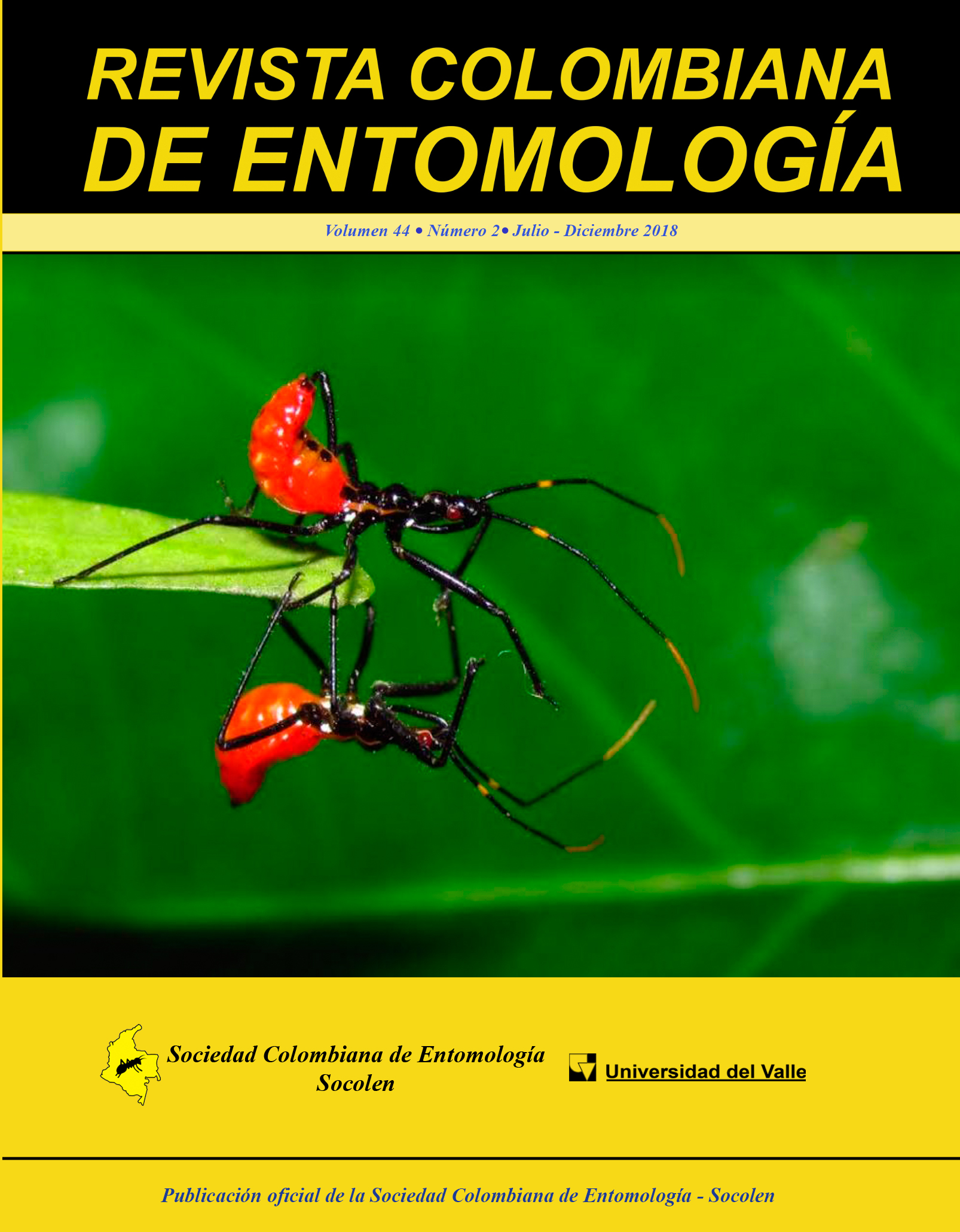 Sección
Sección Agrícola / Notas científicas
Palabras clave
Manihot esculenta, whitefly, laboratory
© Los derechos de autor de la Revista Colombiana de Entomología pertenecen a la Sociedad Colombiana de Entomología. La Sociedad no se responsabiliza de las ideas emitidas por los autores. Ninguna publicación, nacional o extranjera, podrá reproducir ni traducir los artículos o los resúmenes, sin la previa autorización escrita del editor. La persona interesada en poseer una copia de un artículo puede solicitarla gratuitamente al autor cuya dirección aparece en la primera página del mismo o en la web o solicitarla a través de oficina@socolen.org.co.