Action thresholds for the soybean stink bug complex: phytotechnical and physiological parameters and egg parasitism
Resumen
Stink bugs are major soybean pests, causing damage that affects grain production and marketing. Determining action thresholds for pest control can improve the proper use of insecticides on these pests. This study aimed to evaluate five action thresholds for the management of stink bugs on soybeans, as well as their influence on phytotechnical and physiological parameters as well as on parasitism of stink bug eggs. This study was conducted in the field utilizing a completely randomized block design, using the soybean cultivar 'Anta 82 RR'. Insecticide application treatments consisted of five action thresholds used against phytophagous stink bugs: half stink bug.m-1, one stink bug.m-1, two stink bugs.m-1, four stink bugs.m-1 and control (no insecticide sprayed), and four replications. Insect sampling was carried out using the beat cloth method, and parasitism evaluations were also taken weekly by conducting stink bug egg samplings. Soybean physiological and phytotechnical parameters, including crop yield (kg.ha-1), 100-seed weight, pod damage index PDI (%), leaf retention, plant vigor, seed viability and damage, number of seeds per pod, seeds per plant, and pods per plant were also assessed. It was observed that the most severe action thresholds used on stink bugs most positively influenced crop phytotechnical and physiological parameters. Moreover, it was noted that one stink bug.m-1 is the optimal action threshold for stink bug management on soybeans, even though egg parasitism at this level tended to be lower.
Autores/as
Wellington Ivo Eduardo

Faculdades ITES

Luciana Cláudia Toscano

Universidade Estadual de Mato Grosso do Sul

Germison Vital Tomquelski

Fundação Chapadão

Wilson Itamar Maruyama

Universidade Estadual de Mato Grosso do Sul

Rafaela Morando

ETEC Professor Milton Gazzetti
Descargas
La descarga de datos todavía no está disponible.
Palabras clave
Glycine max
parasitoids
pentatomids
multivariate analysis
Euschistus heros
Piezodorus guildinii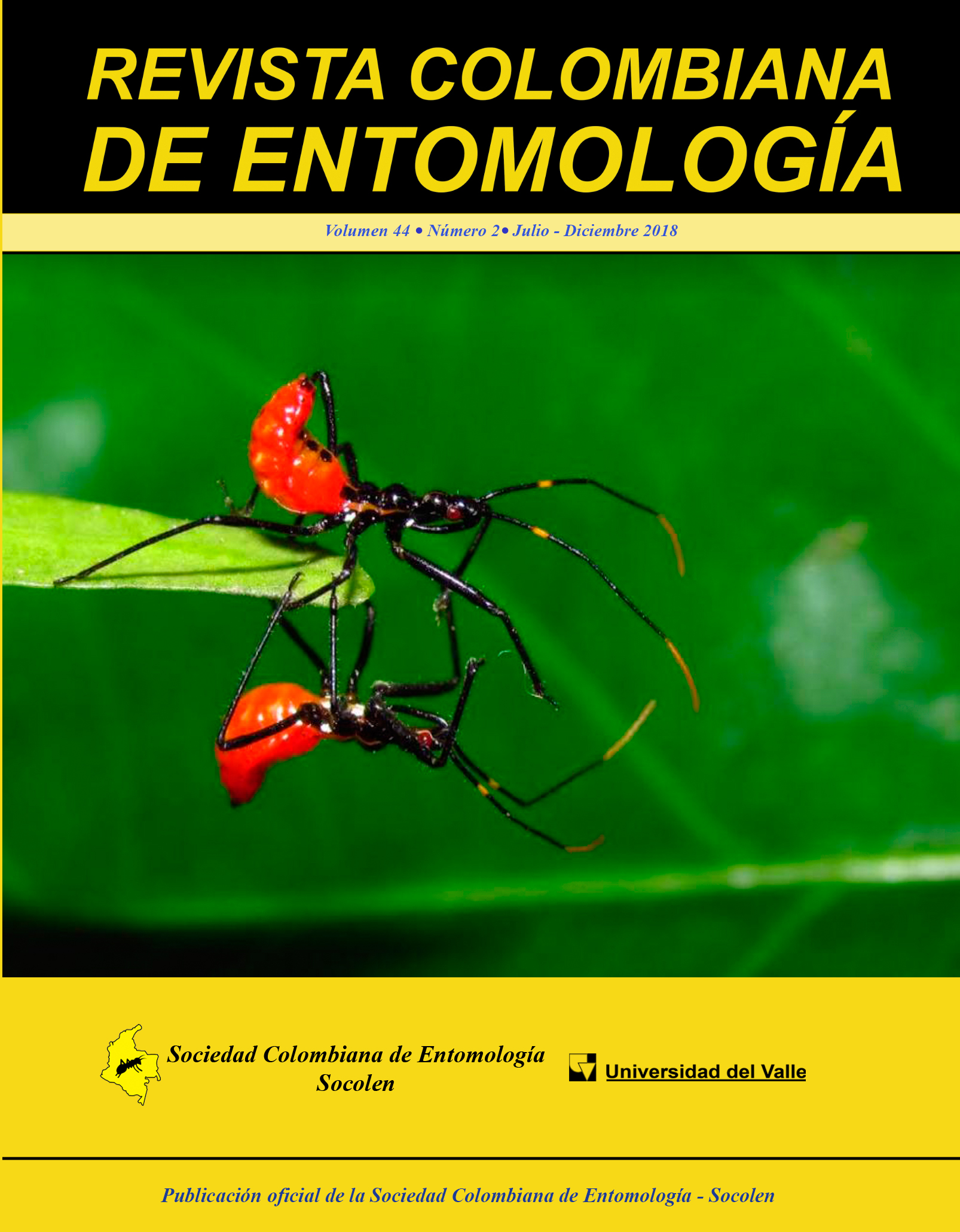 | 18 |
Cómo citar
Eduardo, W., Toscano, L., Vital Tomquelski, G., Maruyama, W., & Morando, R. (2018). Action thresholds for the soybean stink bug complex: phytotechnical and physiological parameters and egg parasitism. Revista Colombiana De Entomología, 44(2), 165-171. https://doi.org/10.25100/socolen.v44i2.7312
Sección
Sección Agrícola / Artículos de investigación
© Los derechos de autor de la Revista Colombiana de Entomología pertenecen a la Sociedad Colombiana de Entomología y la Universidad del Valle. Estas instituciones no se responsabiliza de las ideas emitidas por los autores. Ninguna publicación, nacional o extranjera, podrá reproducir ni traducir los artículos o los resúmenes, sin la previa autorización escrita del editor. La persona interesada en poseer una copia de un artículo puede descargala de la página web de la revista, solicitarla gratuitamente al autor cuya dirección aparece en la primera página del mismo o solicitarla a través de revista.entomologia@univalle.edu.co.