New records of myrmicine ants (Hymenoptera; Formicidae) for Colombia
Roberto Jose Guerrero

Profesor

Fernando Fernández

Universidad Nacional de Colombia

Mayron E. Escárraga

Universidad del Magdalena

Lina Pérez-Pedraza

Universidad Nacional de Colombia

Francisco Serna

Universidad Nacional de Colombia

William P. Mackay

University of Texas at El Paso

Vivian Sandoval

Universidade Federal do Tocantins, Campus Araguaína

Valentina Vergara

Universidad Nacional de Colombia

Diana Suárez

Universidad Nacional de Colombia

Emira I. García

Universidad del Magdalena

Andrés Sánchez

Universidad de Buenos Aires

Andrés D. Meneses

Universidad Nacional de Colombia

María C. Tocora

Universidad Nacional de Colombia

Jeffrey Sosa-Calvo

Arizona State University
Resumen
Colombia is a country with a high diversity of ants; however, several new taxa are still being reported for the country. Forty seven new records for the country are registered here, all in the subfamily Myrmicinae: one new species record for the genera Adelomyrmex, Allomerus, Kempfidris, Megalomyrmex, Octostruma and Tranopelta; two for Rogeria; five for Myrmicocrypta; six for Procryptocerus; seven for Cephalotes; ten for Pheidole and eleven for Strumigenys. Three of these new records are invasive or tramp species, Pheidole indica, Strumigenys emmae, and Strumigenys membranifera. Three species are also recorded for the first time in South America: Pheidole sicaria, Procryptocerus tortuguero, and Strumigenys manis. The ant genera Kempfidris is recorded for the first time for Colombia. All species are commented. Currently, the diversity of ants in Colombia approaches 1,100 known species.
Descargas
La descarga de datos todavía no está disponible.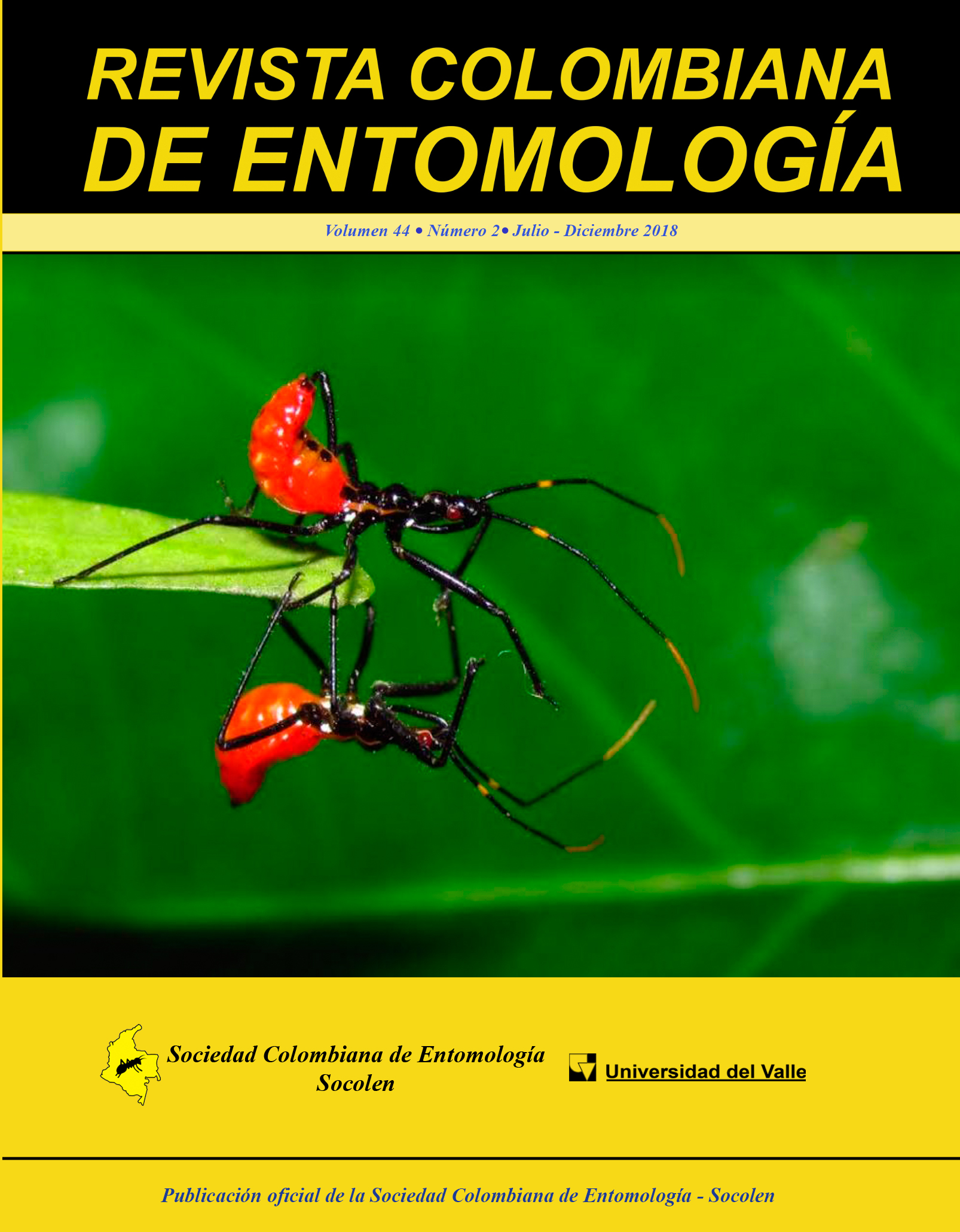 Sección
Sección Básica / Artículos de investigación
Palabras clave
Amazon rainforest, Andean region, Biodiversity, Colombian fauna, Formicidae, Neotropical region, Tramp species
© Los derechos de autor de la Revista Colombiana de Entomología pertenecen a la Sociedad Colombiana de Entomología. La Sociedad no se responsabiliza de las ideas emitidas por los autores. Ninguna publicación, nacional o extranjera, podrá reproducir ni traducir los artículos o los resúmenes, sin la previa autorización escrita del editor. La persona interesada en poseer una copia de un artículo puede solicitarla gratuitamente al autor cuya dirección aparece en la primera página del mismo o en la web o solicitarla a través de oficina@socolen.org.co.