Aquatic insects in organic and inorganic habitats in the streams on the Central Brazilian savanna
Leandro S. Brasil

Universidade Federal do Pará

Nubia França da Silva Giehl

Universidade do Estado de Mato Grosso

Joana Darc Batista

Universidade do Estado de Mato Grosso

Bethânia Oliveira de Resende

Universidade do Estado de Mato Grosso

Helena Soares Ramos Cabette

Universidade do Estado de Mato Grosso
Resumen
A major part of the mechanisms that affects species distribution is related to environmental conditions. Within a stream channel the accumulation of substrates like litter, roots, stones, gravel and sand create habitats that act as shelter and/or food source to aquatic communities, in this way supporting, or not, the establishment of different species. Based on this fact we verified the structure of aquatic insect communities in organic and inorganic habitats within Cerrado streams. Tested for differences on genera richness (i), individual abundance (ii) and genera composition (iii), and also (iv) verified if there are any indicator genera, which are faithful and specific to organic or inorganic habitats. Sampled organic (litter) and inorganic (sand and gravel) substrates in five sections of three streams and collected individuals of the orders Ephemeroptera, Plecoptera, Trichoptera, Odonata and Heteroptera (EPTOH). Community composition differed between habitats, with organic ones having higher richness and abundance, besides being the only habitat that presented faithful and specific genera (six). It is argued that this difference may be caused due to shelter and food supply provided by organic substrates.
Descargas
La descarga de datos todavía no está disponible.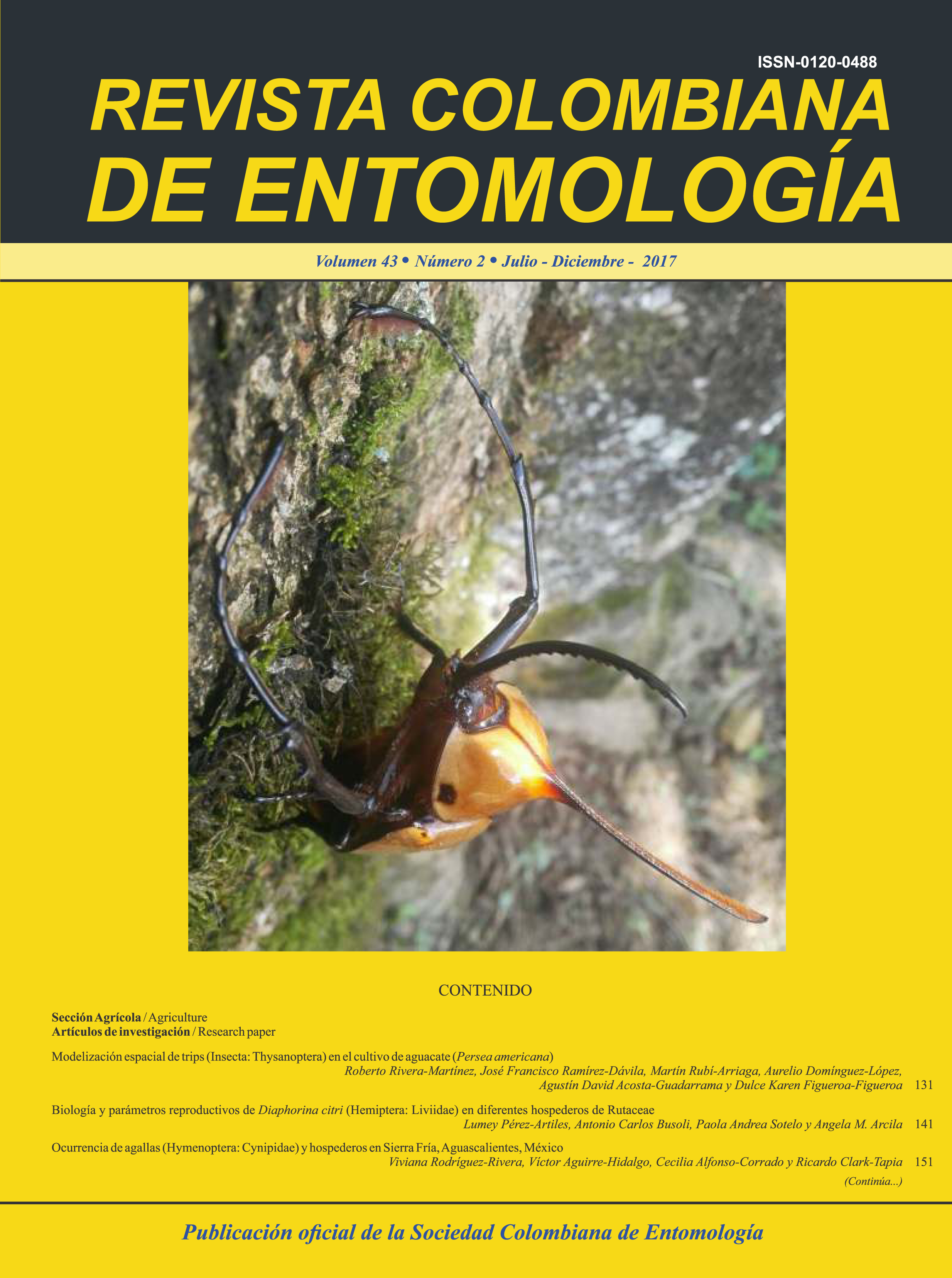 Sección
Sección Básica / Artículos de investigación
Palabras clave
Diversidad Beta, tricópteros, moscas efímeras, plecópteros, insectos acuáticos
© Los derechos de autor de la Revista Colombiana de Entomología pertenecen a la Sociedad Colombiana de Entomología. La Sociedad no se responsabiliza de las ideas emitidas por los autores. Ninguna publicación, nacional o extranjera, podrá reproducir ni traducir los artículos o los resúmenes, sin la previa autorización escrita del editor. La persona interesada en poseer una copia de un artículo puede solicitarla gratuitamente al autor cuya dirección aparece en la primera página del mismo o en la web o solicitarla a través de oficina@socolen.org.co.