New records of Ephemeroptera from the Colombian Orinoco river basin of the Meta department
Luis Gonzalo Salinas-Jiménez

Universidad de los Llanos

José Ismael Rojas-Peña

Universidad de los Llanos

Diana Paola Osorio-Ramírez

Universidad de los Llanos

Clara Inés Caro-Caro

Universidad de los Llanos
Resumen
There is extensive research of the Ephemeroptera communities taxonomy and ecology in the Andean region of Colombia. However, other regions such as the Orinoquia have been insufficiently studied. From this region, in the Meta department, four species have been registered: Varipes lasiobrachius Lugo-Ortiz & McCafferty, Coryphorus aquilus Peters, Miroculis (Atroari) colombiensis Savage & Peters and Tricorythopsis rondoniensis (Dias, Cruz & Ferreira). The main objective of this study is to report for the first time for this region the species: Mayobaetis ellenae (Mayo), Hydrosmylodon primanus (Eaton), Haplohyphes baritu Domínguez, Camelobaetidus edmundsi Dominique, Mathuriau & Thomas and Nanomis galera Lugo-Ortiz & McCafferty.
Descargas
La descarga de datos todavía no está disponible.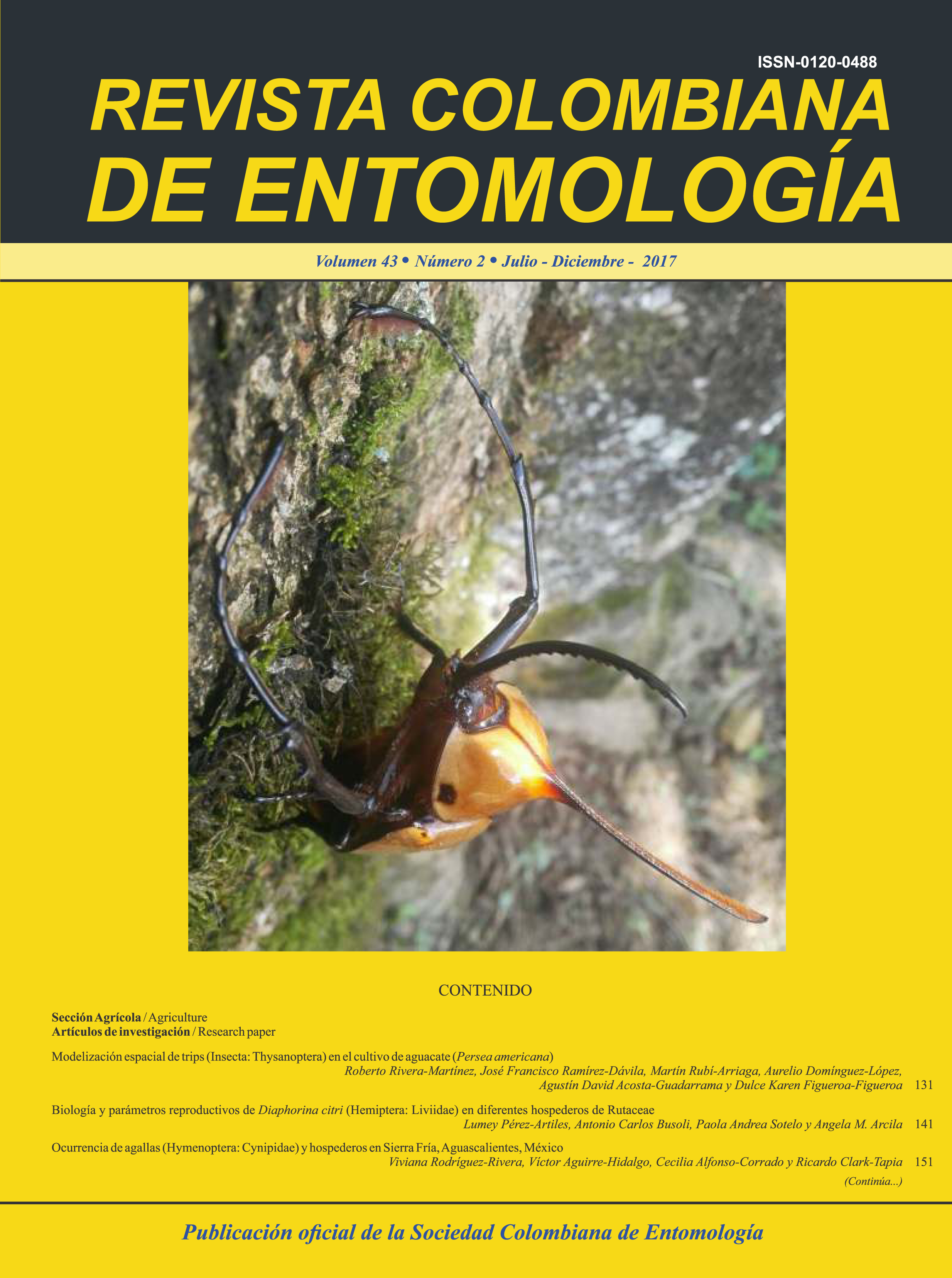 Sección
Sección Básica / Artículos de investigación
Palabras clave
Distribución, Andean-Orinoco, pie de monte, taxonomy
© Los derechos de autor de la Revista Colombiana de Entomología pertenecen a la Sociedad Colombiana de Entomología. La Sociedad no se responsabiliza de las ideas emitidas por los autores. Ninguna publicación, nacional o extranjera, podrá reproducir ni traducir los artículos o los resúmenes, sin la previa autorización escrita del editor. La persona interesada en poseer una copia de un artículo puede solicitarla gratuitamente al autor cuya dirección aparece en la primera página del mismo o en la web o solicitarla a través de oficina@socolen.org.co.