Neem extract formulations to control Diabrotica speciosa (Coleoptera: Chrysomelidae) larvae in maize
Arlindo Leal Boiça Júnior

Universidade Estadual Paulista (UNESP)

Eduardo Neves Costa

Universidade Estadual Paulista (UNESP)

Bruno Henrique Sardinha de Souza

Universidade Federal de Lavras (UFLA)

Zulene Antonio Ribeiro

Universidade Estadual Paulista (UNESP)

Eveline Soares Costa

Universidade Federal de São Carlos (UFSCar)

Moacir Rossi Forim

Universidade Federal de São Carlos (UFSCar)
Resumen
Diabrotica speciosa larvae have been considered to be one of the major subterranean pests of several crops, and its most susceptible host is maize (Zea mays). This study aimed to evaluate the effects of oil-formulated neem extract and lignin-microencapsulated neem extract for D. speciosa larvae control. Effects of applications of neem formulations on the growth of maize plants were also assessed. In the first assay, 0.25, 0.5, 1.0, 2.0, and 4.0 mL of oil-formulated neem extract were applied per 25 g soil and were compared with the insecticide fipronil WG and deionized water. In the second assay, lignin-microencapsulated neem extract was applied at 160, 80, 40, 20 and 10 mg per 25 g soil, and compared with the same controls. Both neem formulations were as efficient as the insecticide fipronil WG in the control of D. speciosa larvae. The evaluated doses of neem formulations did not interfere on maize plants growth. Results of this study permit concluded that, under laboratory conditions, oil-formulated neem extract and lignin-microencapsulated neem extract formulations are promising for controlling D. speciosa larvae in maize, and might benefit sustainable pest management.
Descargas
La descarga de datos todavía no está disponible.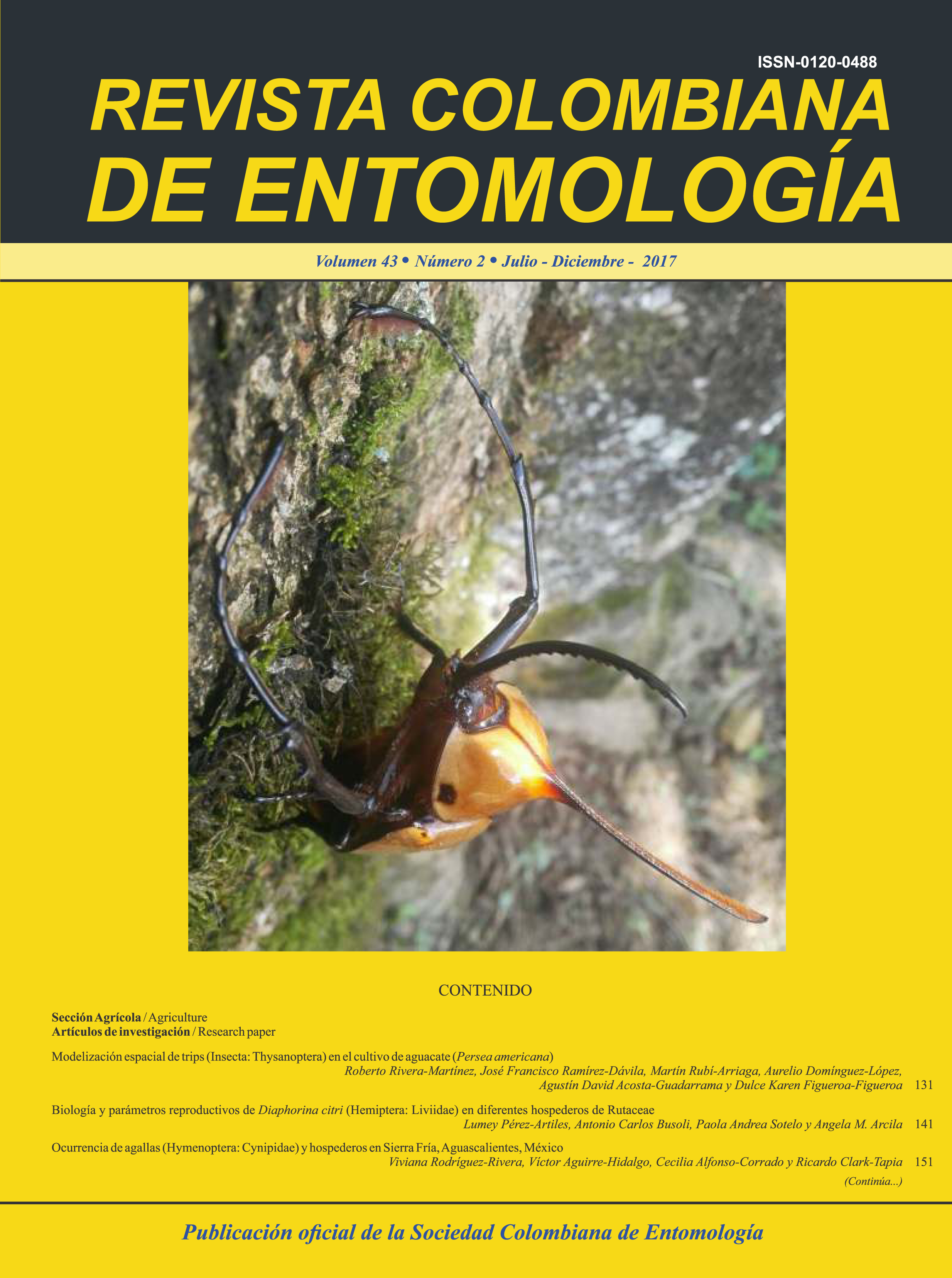 Sección
Sección Control / Artículos de investigación
Palabras clave
Azadirachta indica, gusano de la raíz del maíz, insecticidas botánicos, manejo de plagas
© Los derechos de autor de la Revista Colombiana de Entomología pertenecen a la Sociedad Colombiana de Entomología. La Sociedad no se responsabiliza de las ideas emitidas por los autores. Ninguna publicación, nacional o extranjera, podrá reproducir ni traducir los artículos o los resúmenes, sin la previa autorización escrita del editor. La persona interesada en poseer una copia de un artículo puede solicitarla gratuitamente al autor cuya dirección aparece en la primera página del mismo o en la web o solicitarla a través de oficina@socolen.org.co.