Effects of extracts from Maytenus on Aegorhinus superciliosus (Coleoptera: Curculionidae) and Hippodamia convergens (Coleoptera: Coccinellidae)
Andrea Zavala H.

Pontificia Universidad Católica de Chile

Emilio Hormazabal U.

Universidad de La Frontera

Gloria Montenegro R.

Pontificia Universidad Católica de Chile

Marlene Rosalez V.

Pontificia Universidad Católica de Chile

Andrés Quiroz C.

Universidad de La Frontera

Cristian Paz R.

Universidad de La Frontera

Ramón Rebolledo

Universidad de La Frontera
Resumen
The insecticidal effects of five ethanolic extracts produced from three species of the genus Maytenus: M. boaria leaf (MBL), M. boaria bark (MBB), M. boaria seed (MBS), M. disticha leaf (MDL) and M. magellanica leaf (MML) were evaluated on the lady beetle Hippodamia convergens (Coleoptera: Coccinellidae) and on the pest of berry Aegorhinus superciliosus (Coleoptera: Curculionidae). The anti-feeding effects of the extracts on the latter were also evaluated. Residual application was used, with five concentrations for each species of insect and ten replications of each assay. To evaluate anti-feeding action in adult A. superciliosus, choice (C) and no-choice (NC) experiments were established to determine the percentage of leaf area consumed. The assays lasted for 120 hours, with the mortality and anti-feeding effect monitored every 24 hours. The highest percentage of mortality in the two insect species was recorded with the MBS ethanolic extract: H. convergens presented 82 %, with LC50: 32 mg/ml; while A. superciliosus presented 85 % in the choice assay and 86 % in the no-choice assay, with LC50: 23 mg/ml. In both assays, the mortality increased with exposure time, reaching its highest at 120 hours. The lowest mortality was obtained with MBB extract in choice (C) and with MML extract in no-choice (NC) assays. In the choice assay, the highest percentage of leaf area consumed was recorded with MBB extract, while in the no-choice assay the highest percentage of consumed was with MML extract, which presented higher values even than the control with no application. The lowest leaf percentage consumed, in both assays, was recorded with MBS extract at the highest concentrations (20 and 30 % w/v).
Descargas
La descarga de datos todavía no está disponible.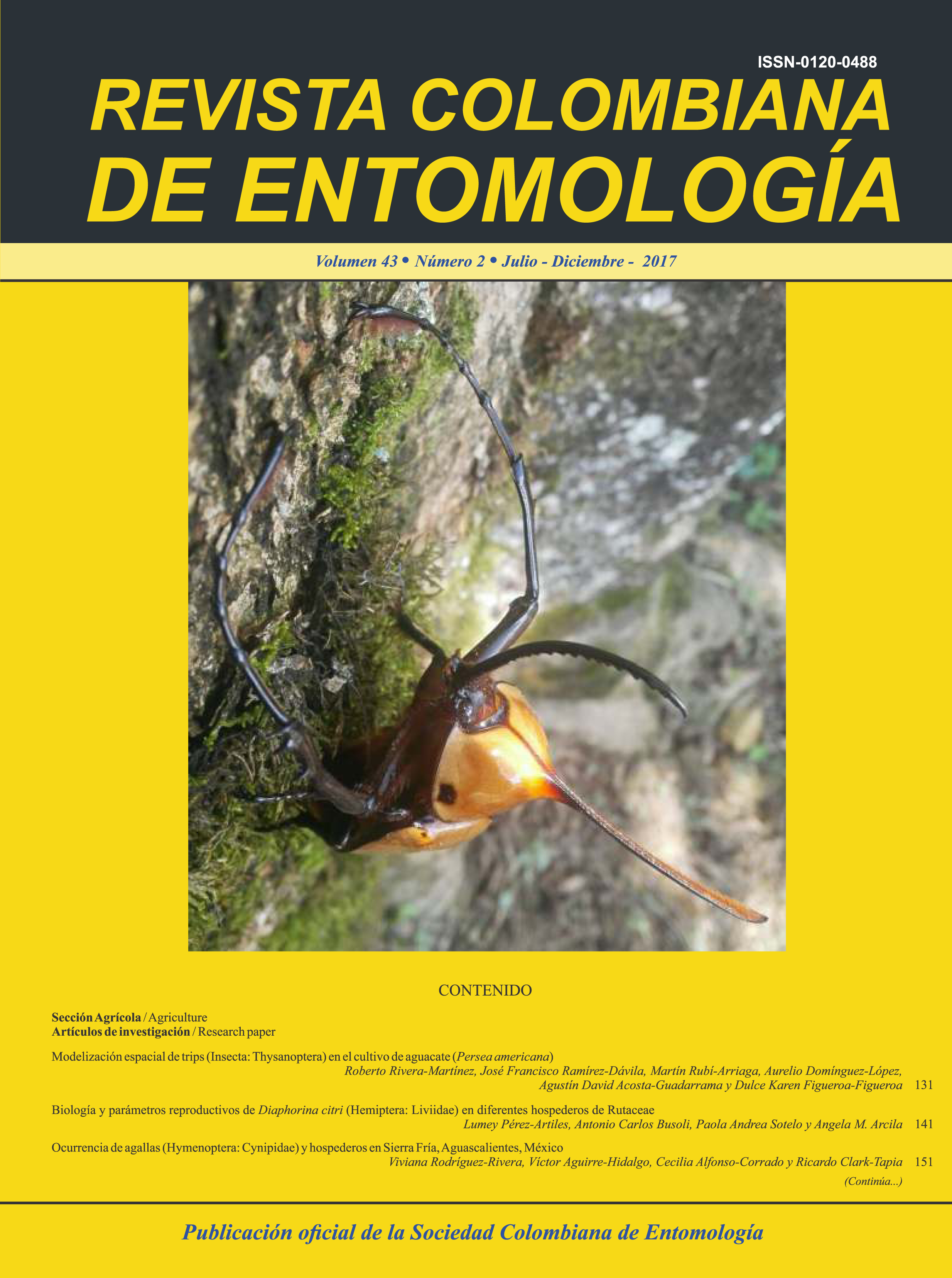 Sección
Sección Control / Artículos de investigación
Palabras clave
Plaga de berries, Celastraceae, controlador biológico
© Los derechos de autor de la Revista Colombiana de Entomología pertenecen a la Sociedad Colombiana de Entomología. La Sociedad no se responsabiliza de las ideas emitidas por los autores. Ninguna publicación, nacional o extranjera, podrá reproducir ni traducir los artículos o los resúmenes, sin la previa autorización escrita del editor. La persona interesada en poseer una copia de un artículo puede solicitarla gratuitamente al autor cuya dirección aparece en la primera página del mismo o en la web o solicitarla a través de oficina@socolen.org.co.