Effect of food lures for monitoring of Anastrepha fraterculus (Diptera: Tephritidae) in Acca sellowiana (Myrtaceae)
Joatan Machado da Rosa

Santa Catarina Estate University

Cristiano João Arioli

Epagri – Santa Catarina State Agricultural Research and Rural Extension Agency (Brazil)

Aline Costa Padilha

Federal University of Pelotas

Lenita Agostinetto

University of Planalto Catarinense

Marcos Botton

Brazilian Agricultural Research Corporation - Embrapa
Resumen
The South American fruit fly, Anastrepha fraterculus (Diptera: Tephritidae) stands out for its polyphagous habit of damaging the production of several fruits in southern Brazil. This study aimed to evaluate the capture efficiency of A. fraterculus using grape juice at different periods of decomposition and aging as well as to test the capture efficiency of the enzymatic hydrolyzed protein Cera Trap® in feijoa crops. The work was conducted in a commercial feijoa orchard in São Joaquim, SC, Brazil during the 2014 growing season. Undiluted Cera Trap®, fresh grape juice and grape juice that had aged for 7 and 14 days were evaluated. All of the treatments with grape juice were used at the recommended concentration of 25 %. McPhail traps were used with 300 mL for each lure. On a weekly basis, the number of adults and the percentage of female fruit flies captured were evaluated, using identification and counting. Cera Trap® was the lure that captured the highest number of fruit flies, with a high percentage of females and with a higher frequency of captures during the season. Cera Trap® also showed the highest number of action thresholds compared to grape juice treatments. The 25 % fresh and aged grape juice showed a low number of captures and a low number of action thresholds. We conclude that fresh and aged grape juice were not effective for capturing and  monitoring A. fraterculus in feijoa orchards. The Cera Trap® lure proves to be an alternative to improve  monitoring of A. fraterculus in orchards in southern Brazil.
Descargas
La descarga de datos todavía no está disponible.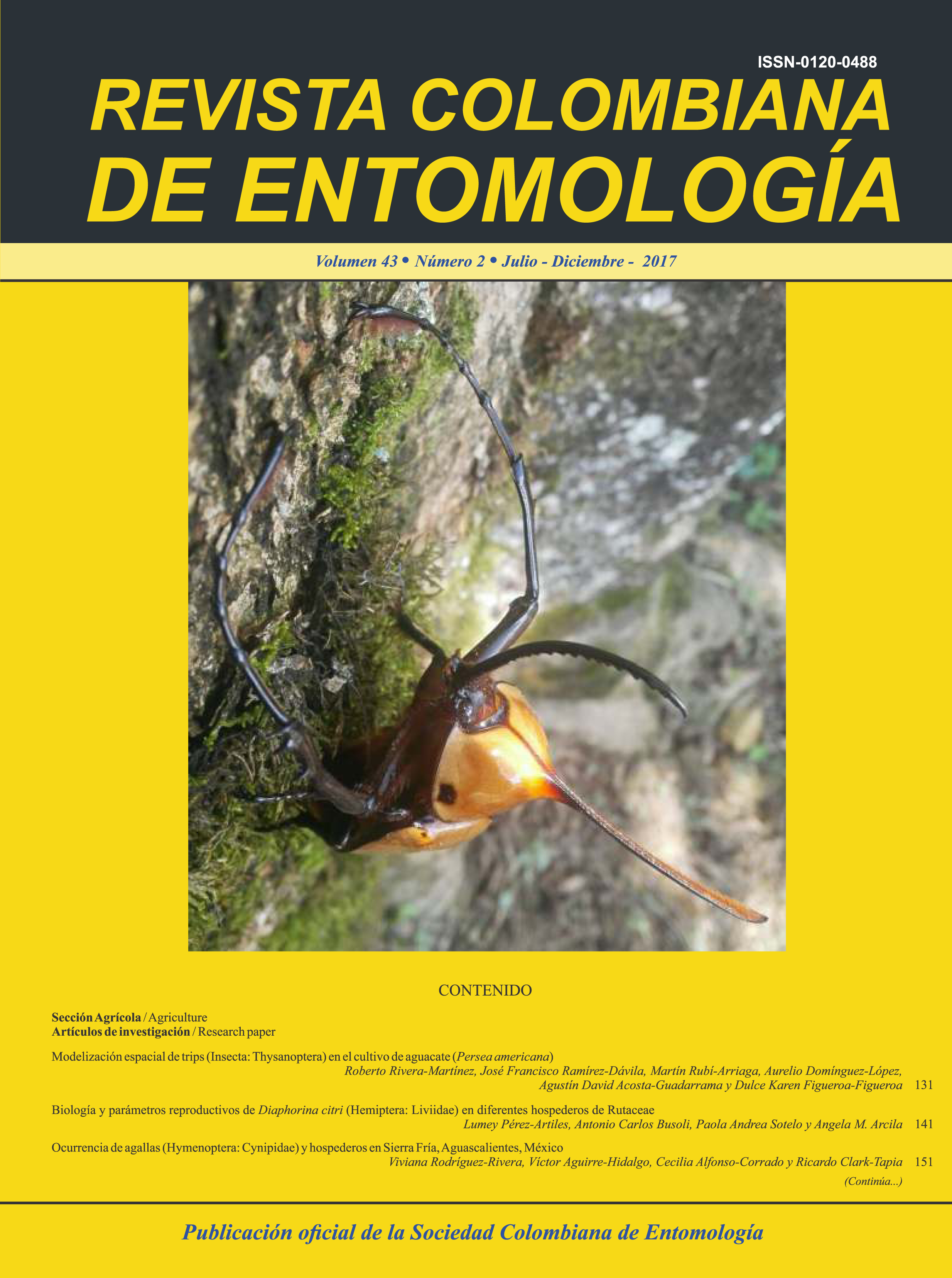 Sección
Sección Agrícola / Artículos de investigación
Palabras clave
Monitoreo, moscas de las frutas, instrucción de control, atracción, manejo de plagas
© Los derechos de autor de la Revista Colombiana de Entomología pertenecen a la Sociedad Colombiana de Entomología. La Sociedad no se responsabiliza de las ideas emitidas por los autores. Ninguna publicación, nacional o extranjera, podrá reproducir ni traducir los artículos o los resúmenes, sin la previa autorización escrita del editor. La persona interesada en poseer una copia de un artículo puede solicitarla gratuitamente al autor cuya dirección aparece en la primera página del mismo o en la web o solicitarla a través de oficina@socolen.org.co.