Olfactory responses and feeding preferences of Copitarsia uncilata (Lepidoptera: Noctuidae) to four aromatic herb specie
Miguel Mendieta

Interoc Custer

Andreas Gaigl

Universidad Nacional de Colombia (UNAL)

Juan Carlos Getiva de la Hoz

Instituto Colombiano Agropecuario-ICA

Anibal Orlando Herrera

Universidad Nacional de Colombia (UNAL)
Resumen
Colombian aromatic herbs have great potential as an export commodity. The genus Copitarsia is considered as an economic and a quarantine pest attacking them. In herbivore insects, host plant choice is made by adults and influenced by host plant quality. There were performed olfactory and feeding tests by using four-arm olfactometer and offering four different aromatic herbs (basil, mint, rosemary, or thyme) to determine the host selection behavior of Copitarsia uncilata Burgos and Leiva. Parameters, such as adult choice, larval weight, and time spent by larva on particular herb were measured. The preferences of adults and immature of C. uncilata varied significantly among the herbs in olfactory and larva feeding tests. The adults showed significantly higher responses to essential oils of basil and rosemary. Higher weight of larva was recorded on mint and basil. Further studies on larval development and longevity of adults on different herbs are necessary.
Descargas
La descarga de datos todavía no está disponible.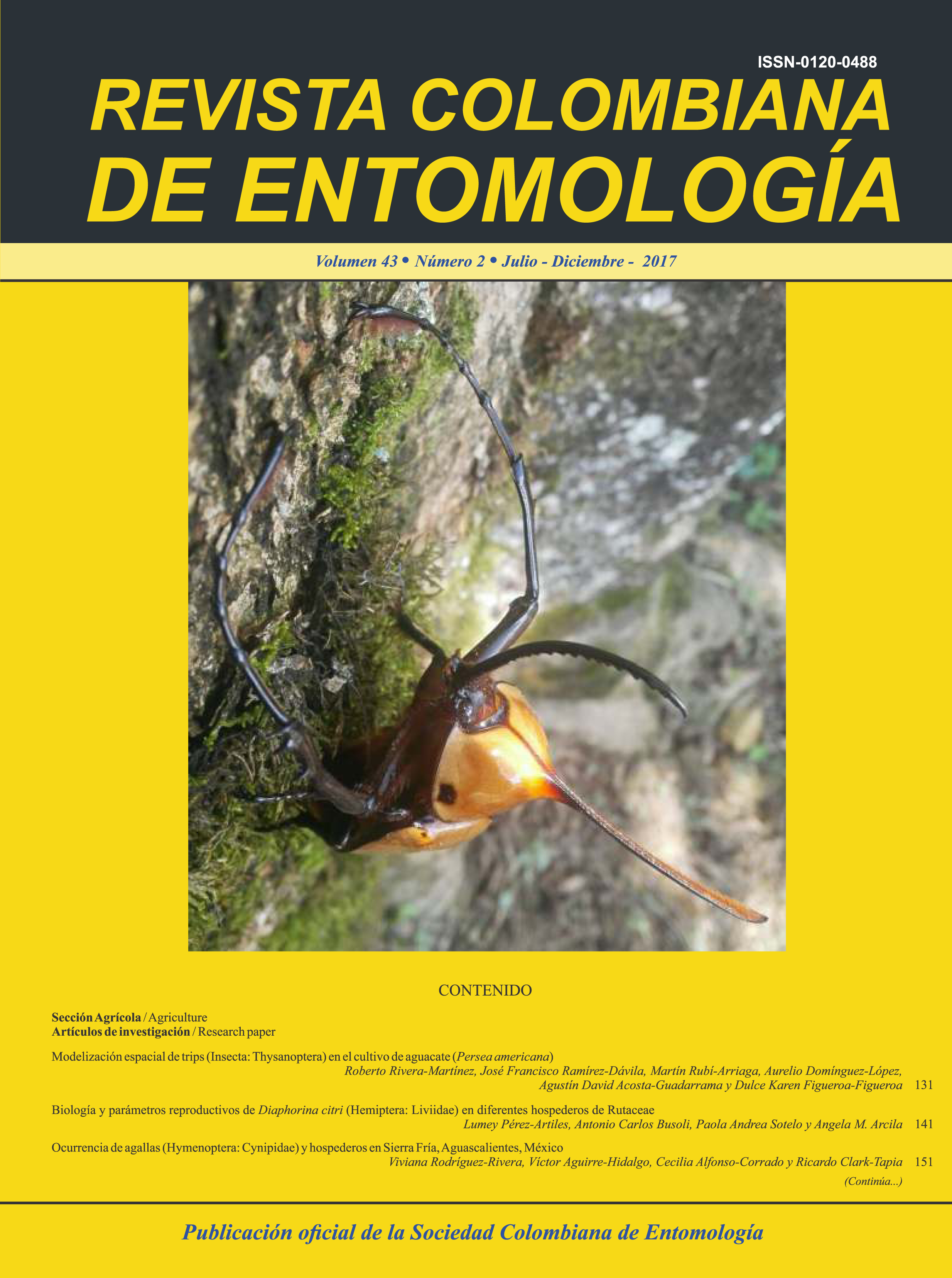 Sección
Sección Agrícola / Artículos de investigación
Palabras clave
Plaga cuarentenaria, percepción de olfato, hierbas aromáticas, etiología de plagas
© Los derechos de autor de la Revista Colombiana de Entomología pertenecen a la Sociedad Colombiana de Entomología. La Sociedad no se responsabiliza de las ideas emitidas por los autores. Ninguna publicación, nacional o extranjera, podrá reproducir ni traducir los artículos o los resúmenes, sin la previa autorización escrita del editor. La persona interesada en poseer una copia de un artículo puede solicitarla gratuitamente al autor cuya dirección aparece en la primera página del mismo o en la web o solicitarla a través de oficina@socolen.org.co.