Toxicity of botanical and synthetic formulations to the maize weevil, Sitophilus zeamais (Coleoptera: Curculionidae)
Arthur Vieira Ribeiro

Universidade Federal de Viçosa (UFV)

Carlos Eduardo Almeida Luz

Cooperativa Agropecuária Centro Serrana (COOPEAVI)

Cristina Schetino Bastos

Universidade de Brasília (UnB)

Yann Schmidt Teichmann Krieger

Universidade de Brasília (UnB)

Nathalia Henriques da Silva

Universidade de Brasília (UnB)

Weslley Brandão da Silva

Universidade de Brasília (UnB)
Resumen
Maize is attacked by various pest species, including the key-pest of stored maize, Sitophilus zeamais (Coleoptera: Curculionidae). This study determined the LC50 and LD50 of neem-based insecticides (AzaMax® and Natuneem®) in comparison to a synthetic pyrethroid insecticide (Decis® 25 CE) to S. zeamais. The bioassays consisted of insects' exposure alone (topical application with microsyringe) and exposure of both insects and seeds treated simultaneously. The final bioassays used four to six concentrations of each formulation per bioassay, diluted in distilled water. The bioassays were run with the use of 10 non-sexed adults of S. zeamais per replication and mortality was assessed after 48 h of exposure. The data regarding concentration and dose-mortality were analyzed by probit analysis. Both LC50 and LD50 were used to calculate LCR and LDR's and their respective confidence interval (CI). After using topical application, the bioassays yielded LD50-values of 51.32, 76.76 and 42.75 μL of AzaMax, Natuneem and Decis/g of insects, respectively. The bioassays with simultaneous exposure of both insects and seeds yielded LC50-values of 4.01, 4.46 and 0.41 μL of AzaMax, Natuneem and Decis/g of seeds, respectively. Regarding the fact that there were no significant differences between the LC50-values of the botanical insecticides, both of them can be used to manage S. zeamais infesting stored corn. The cost to treat maize and to obtain effective control of S. zeamais is cheapest for Decis<Natuneem<Azamax. The LC50-values found in our study would be equivalent to use 8.02, 8.92 and 0.82 L of AzaMax, Natuneem and Decis/ton of seeds.
Descargas
La descarga de datos todavía no está disponible.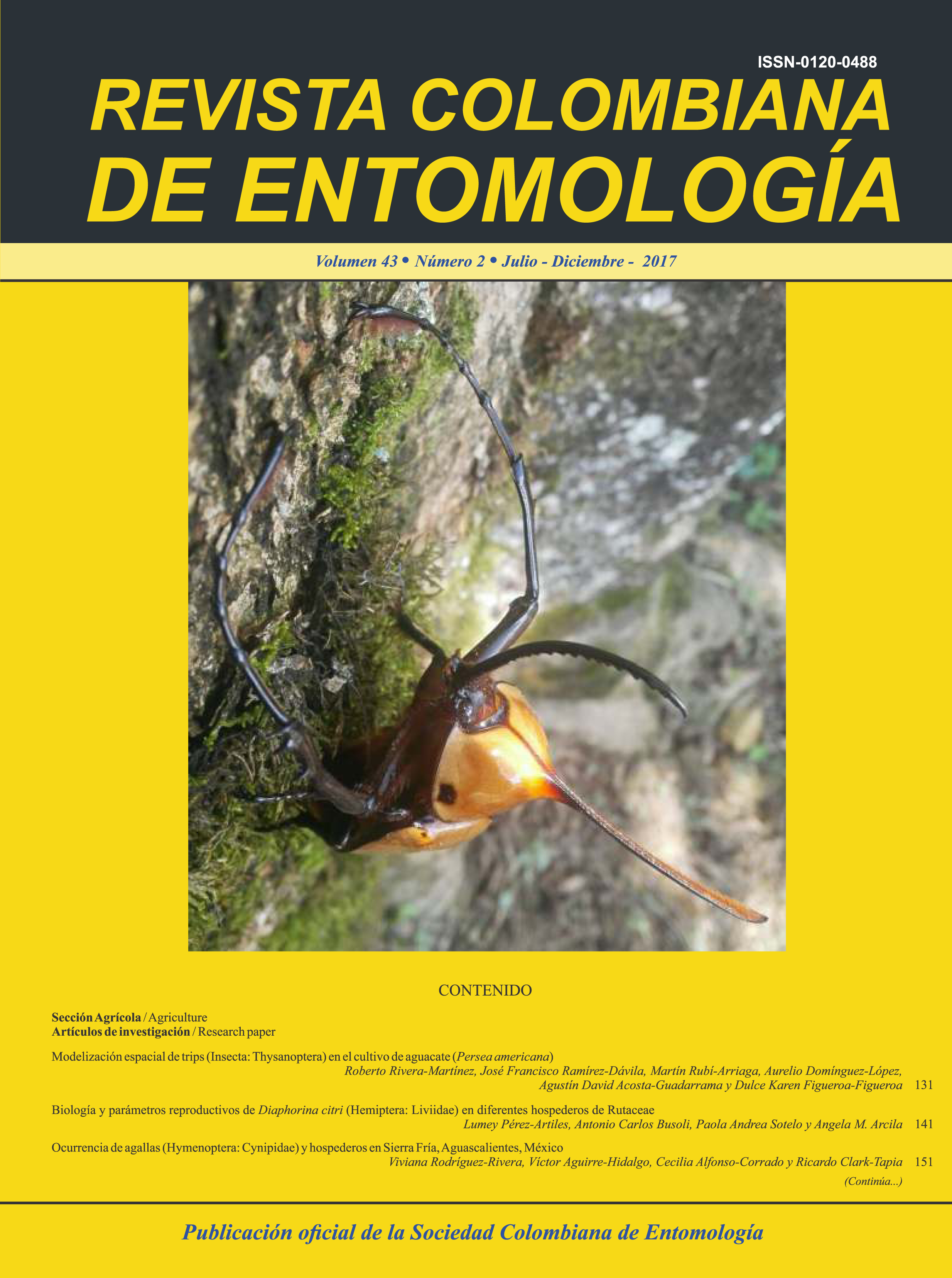 Sección
Sección Agrícola / Artículos de investigación
Palabras clave
Control químico, Zea mays, Azadirachta indica, toxicidad aguda
Esta obra está bajo licencia internacional
Creative Commons Reconocimiento-NoComercial-SinObrasDerivadas 4.0
.
© Los derechos de autor de la Revista Colombiana de Entomología pertenecen a la Sociedad Colombiana de Entomología. La Sociedad no se responsabiliza de las ideas emitidas por los autores. Ninguna publicación, nacional o extranjera, podrá reproducir ni traducir los artículos o los resúmenes, sin la previa autorización escrita del editor. La persona interesada en poseer una copia de un artículo puede solicitarla gratuitamente al autor cuya dirección aparece en la primera página del mismo o en la web o solicitarla a través de oficina@socolen.org.co.