Lethal and sublethal effects after treatment with conventional and biorational insecticides on eggs of Chrysoperla externa (Neuroptera: Chrysopidae)
Marina Haramboure

Centro de Estudios Parasitológicos y de Vectores (CEPAVE) CONICET UNLP
Resumen
The neuropteran Chrysoperla externa is a generalist predator of many important agricultural pests in the Neotropical region. It occurs on several agricultural crops, and therefore it can be affected by pesticides. Here, the lethal and sublethal effects of conventional and biorational insecticides were assessed against C. externa eggs. The exposure method consisted on immersion of eggs in solutions with the maximum field recommended concentration of 25 mg a.i./L cypermethrin, 200 mg a.i./L acetamiprid, 40 mg a.i./L azadirachtin and 75 mg a.i./L pyriproxyfen. The viability of the eggs was not affected, but 100 % of the neonates from eggs treated with cypermethrin died after 48 h. Larvae from eggs treated with acetamiprid, azadirachtin and pyriproxyfen survived to the adult stage, with survival rates of 75 %, 70.6 % and 84.6 %, respectively. Regarding the reproductive parameters, the preoviposition period was not affected but the fecundity and fertility were lower with acetamiprid and pyriproxyfen, showing the sublethal effects of the insecticides acting in the adult stage.
Descargas
La descarga de datos todavía no está disponible.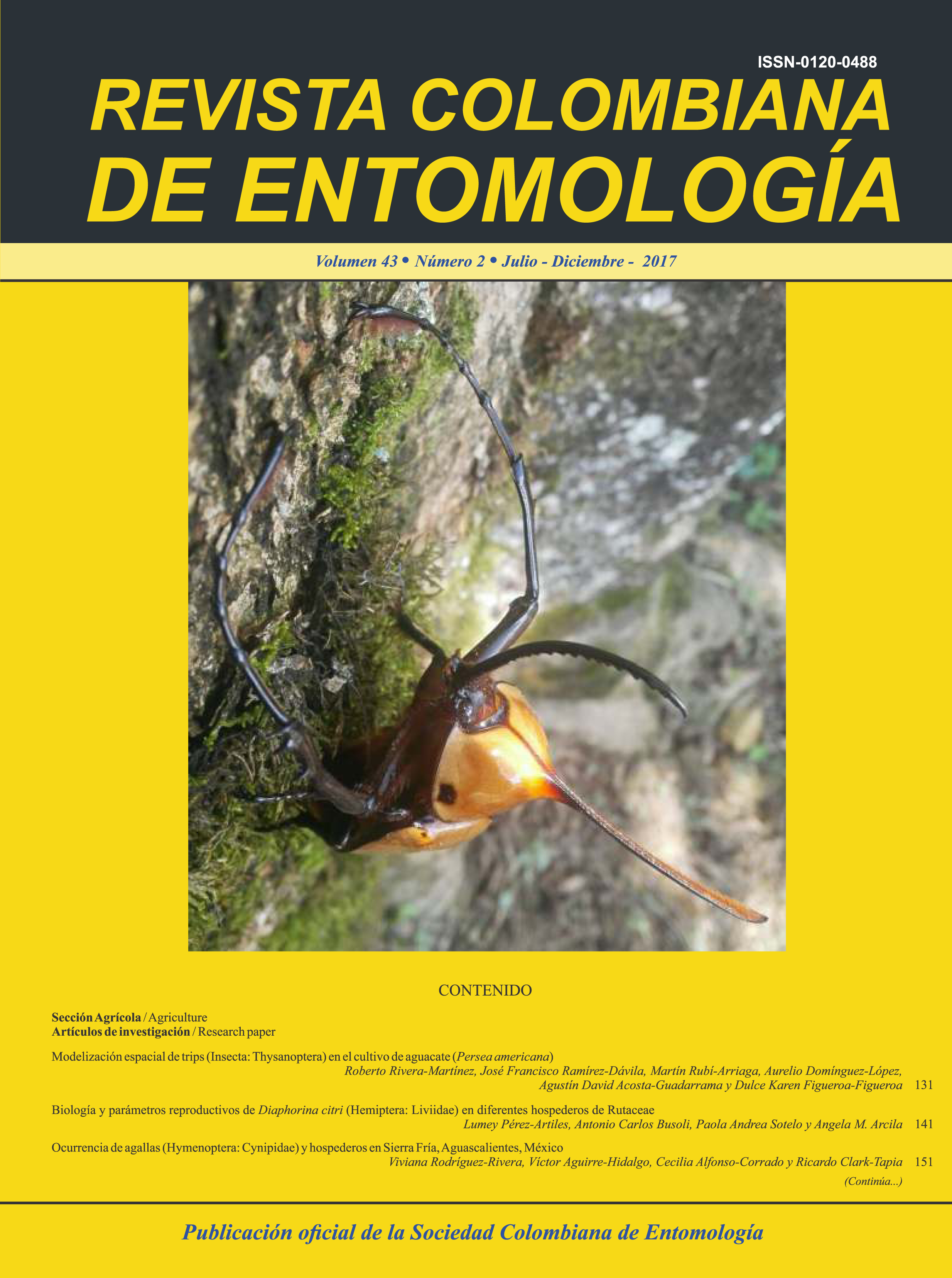 Sección
Sección Agrícola / Artículos de investigación
Palabras clave
MIP, neurópteros, región Neotropical, pesticidas
© Los derechos de autor de la Revista Colombiana de Entomología pertenecen a la Sociedad Colombiana de Entomología. La Sociedad no se responsabiliza de las ideas emitidas por los autores. Ninguna publicación, nacional o extranjera, podrá reproducir ni traducir los artículos o los resúmenes, sin la previa autorización escrita del editor. La persona interesada en poseer una copia de un artículo puede solicitarla gratuitamente al autor cuya dirección aparece en la primera página del mismo o en la web o solicitarla a través de oficina@socolen.org.co.